Flow EZ™ is a flow controller for pressure-based fluid control. It is available in wide pressure range including vacuum versions over the range from minus 800 to plus 7,000 mbar. It may be used with, or without a PC.
What pressure range do you need for your applications?
Options: 0 to 7000, 0 to 2000, 0 to 1000, 0 to 345, 0 to 69, 0 to 25, -25 to 0, -69 to 0, -345 to 0 or -800 to 0 mbar Select the optimal pressure range, either possitive or negative (overpressure or vacuum), of your FlowEZ device to ensure precise flow control in your microfluidic setup.
Product description
The Flow EZ™ is the most advanced system available for pressure-based flow control. The compact device stands alone near the microfluidic setup, allowing the user to minimize bench space use without the need of a PC. One can be operational and generate data rapidly.
In the base configuration, the system controls pressure, and the liquid flow is a function of system resistance, fluid viscosity, etc. The addition of a FLOW UNIT enables one to control or monitor flow rate as well as dispense volume. The pressure automatically adjusts in the background to maintain the flow rate.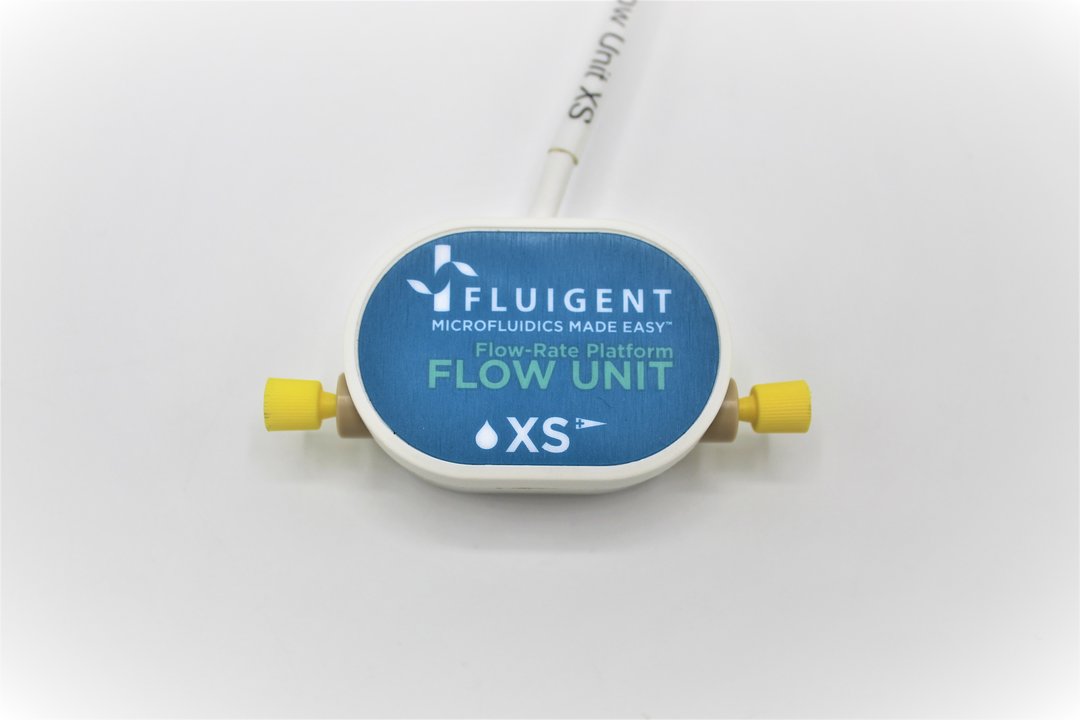 When combined with a LINK module the Flow EZ™ capabilities are extended by using Fluigent software to benefit from automation (MAT) or live monitoring and recording of data (A-i-O)
The Flow EZ™ modules, are available in different pressure and vacuum ranges, to provide the optimum level of pressure control and resolution. These can easily be joined together to match all application requirements or reconfigure the system for a new experimental design.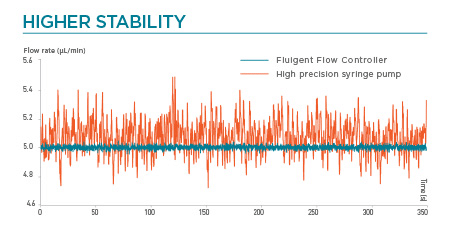 Device features
Easy to use: Start experiment in minutes. No PC is needed for simple experiments.
Modular: Combine as many module as the experiment requires. Each module is a separate pressure channel and can be controlled independently.
Intuitive software: The LineUP series modules are compatible with Fluigent's newest software applications.
Compact: Instead of looking at the PC, users can keep their eyes on the microscope, adjusting the control dial with one hand. In this stand-alone configuration, the device allows for pressure or flow rate control and volume dispense making it ideal for benchtop use.
Software
The LineUP series modules are compatible with Fluigent's newest software applications:
The Fluigent All-in-One: Quickly monitor, control, and record data from all Fluigent instruments with ultra-fast datalogging and an integrated dashboard.
Microfluidic Automation Tool: Easily automate time based protocols for pressure/flow as well as valve control. This provides an intuitive Drag&Drop user interface, TTL Triggers and advanced automation logic.
Software Development Kit: Integrate the LineUp Flow EZ™ seamlessly in your existing application. Available in C++, Labview, Matlab, Python, etc.
We work daily to create the next generation of in vitro culture platforms.
+34 655 161 691
CEMINEM-Campus Río Ebro
Zaragoza